If your feet have high arches, you'll run differently than some and need shoes specialized to fit your needs. High arches give the foot less surface area to absorb the shock that comes with running, putting extra stress on the heel and ball of the foot. In order to avoid injury and run as efficiently as possible, it's important to look for shoes that fit well with your high arches.
We've compiled a list below that includes the best sneakers for runners with high arches, which can help you find the right shoe for your feet. If you want to search for other running shoes for high arches, then you can look through the websites of leading running shoe companies and try to find shoes that have a "neutral" fit. What does that mean? Neutral sneakers don't have as much stability as some other running shoes on the market, which makes them ideal for people with high arches.
If you're not sure whether or not you have high arches, there's an easy way to find out: the wet test. As Runner's World illustrates nicely, you start by pouring a layer of water into a pan. Stick your foot into the pan, pull it out of the water and step onto a piece of heavy paper. Step away and examine the silhouette of your wet foot on the page. If you have a high arch, the part of the paper that touches the middle section of your foot should be barely wet if at all. The heel and ball of your foot will be the most pronounced.
The right shoes can improve your run, whether you have low arches, high arches or something in between. If you're looking for the best results, you can also try investing in some running orthotics. Sole offers durable, high-quality inserts that can help keep your feet comfortable and kick your performance up a notch. Keep reading for our list of the best running shoes for high arches.
Adidas Supernova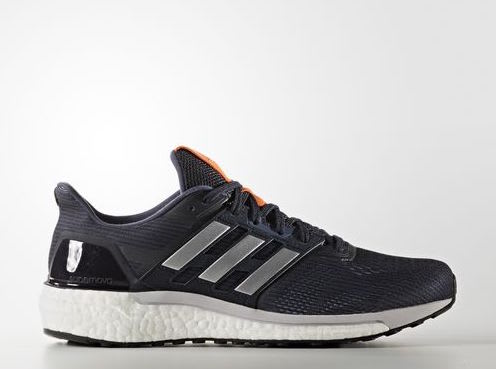 The Supernova is ideal if you're looking for an ultra-comfortable shoe to go for a run in. A thick layer of boost allows for responsive cushioning that takes stress off of your feet and joints. The shoe also features the same fitcounter molded heel counter found in the more expensive Adidas Ultra Boost, improving Achilles movement.
$130, available at adidas.com
Saucony Kinvara 8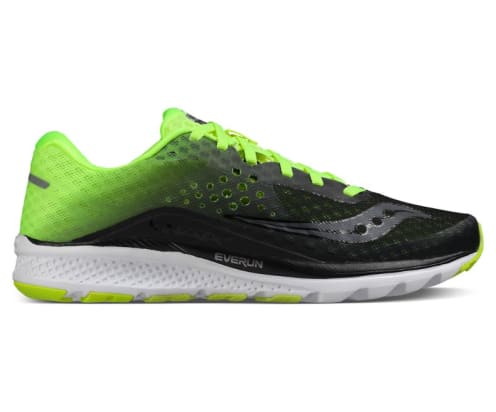 The Kinvara 8's black and citron colorway makes for one of the sleekest-looking Saucony sneakers to date. Better yet, it's a perfect running shoe if you have high arches and want something light that will help you zip through training. The Kinvara 8 has a slim front outsole and offers firm, responsive cushioning for fleet-footed runners. At 7.9 ounces, you won't find many shoes this weightless.
$110, available at saucony.com
Newton Gravity 6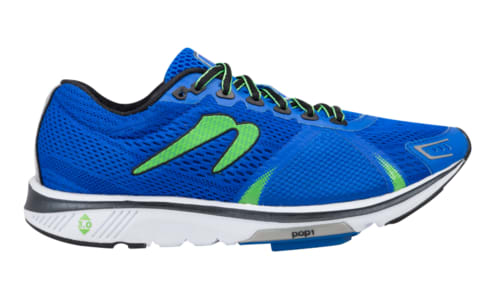 The Gravity 6 features Netwon's Newtonium cushioning (try saying that five times fast). The system is highly responsive and offers what Newton calls a "lively" ride. Toward the front of the shoe's sole is the s.h.a.r.c outsole, a five-toothed mechanism that juts toward the ground. The compound is ideal for traction on a variety of surfaces. The Gravity 6 is one of the more expensive running shoes out there at $175, but its features are worth it if you're willing to splurge.
$175, available at newtonrunning.com
Brooks Launch 4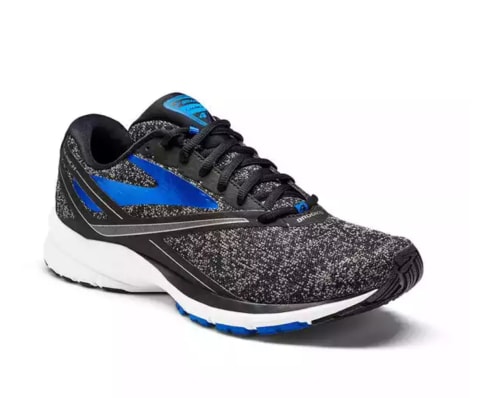 There's something novel and authentic about what Brooks is doing. Instead of expanding its portfolio to include apparel for other sports or trendy lifestyle lines, the company invests all of its time into one thing: running. The Launch 4 is a testament to Brooks' laser focus, offering decent support at a lightweight 9 ounces.
$100, available at brooksrunning.com
Nike Air Zoom Pegasus 33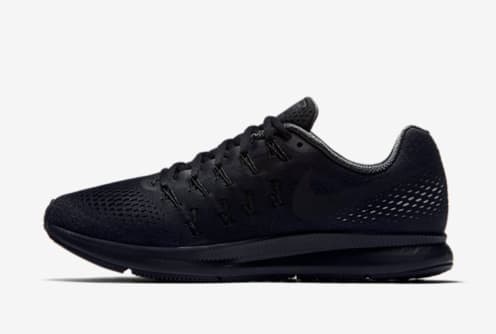 The Pegasus, originally released in 1983, has a rich history as one of the world's top running shoes. For perspective, the shoe was around before Nike spokesman Michael Jordan had played even one minute of professional basketball. And decades after its first release, the Pegasus is as good as ever. The shoe is responsive and well cushioned, perfect for longer runs. The Pegasus 33 also features vibrant colorways that make sure cars can see you running alongside the road, day or night.
$110, available at nike.com
Mizuno Wave Rider 20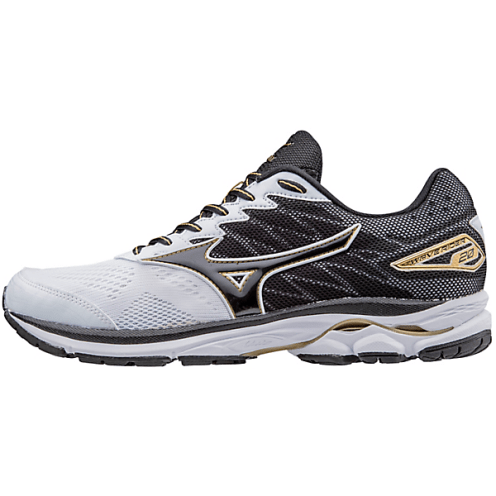 If you're looking for something cushy for a smooth, easy stride, then you can't go wrong with the Wave Rider 20. Arguably Mizuno's most popular running shoe, the Wave Rider has a flexible heel that will give you comfort mile after mile. It's also relatively light at 9.6 ounces, so you won't be weighed down.
$120, available at mizunousa.com
Asics GEL-Cumulus 18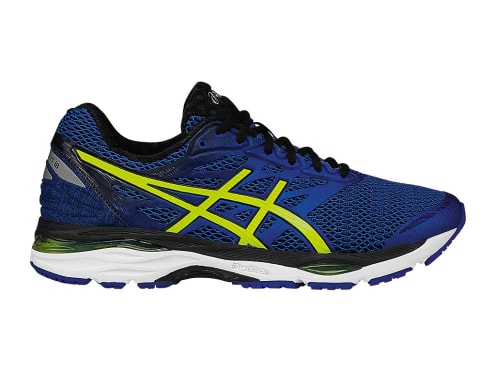 The GEL-Cumulus 18 is ideal for underpronators, runners who generally have high arches. The shoe boasts a shock-absorbing rearfoot and the trademark gel that Asics is known for in the forefoot. At 11.1 ounces, you could find a lighter shoe for racing, but there aren't many running shoes that offer this kind of support. The shoe's sole also features a flex groove that can improve gait efficiency.
$120, available at asics.com
Saucony Ride 9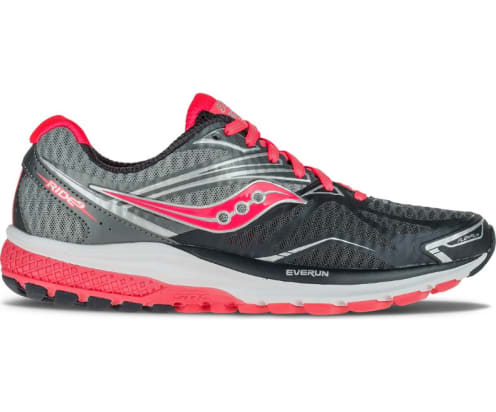 The Ride 9 is a highly effective shoe for long-distance runs. This sneaker provides ample cushioning without being clunky and offers neutral support that's ideal for many runners with high arches. Molly Huddle, who set the American record for the 10,000 meters at the 2016 Olympics, wears the Ride 9 for her long runs.
$120, available at saucony.com
Nike Lunarepic Low Flyknit 2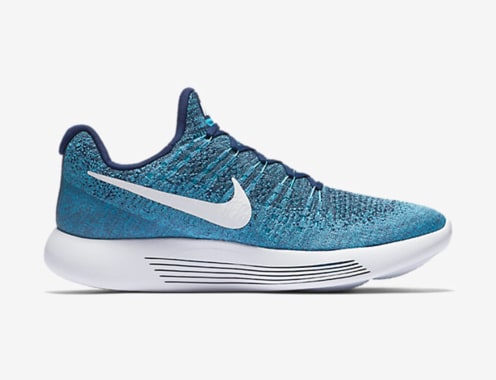 The Lunarepic Low Flyknit 2 offers one of the more unique fits you can find in a running shoe. The sneaker boasts a cushy, yet responsive outsole and a lightweight flyknit upper that keeps the shoe's weight at just 8.8 ounces. The Lunarepic Low Flyknit 2 is also incredibly flexible and won Competitor Magazine's Editor's Choice award.
$140, available at nike.com
Brooks Hyperion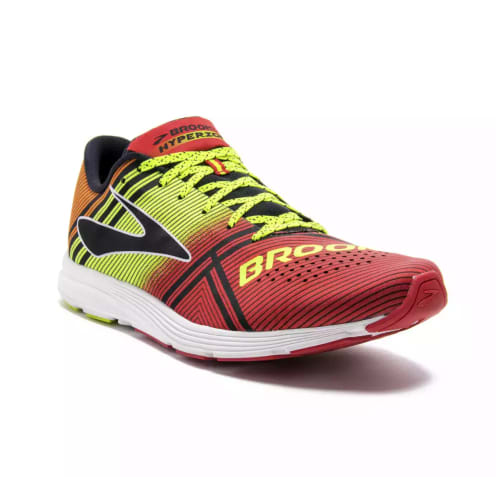 This low-profile sneaker is engineered for speed. The Hyperion is sleek, perfect for the road or track, and clocks in at an astonishingly light 6.4 ounces. This shoe will also keep your feet from overheating on scorching hot days, thanks to its perforated stretch-woven upper that offers superior ventilation. The Hyperion is Brooks' lightest road shoe and is ideal for your next race.